Claim: New MacBook Pro keyboards fail at double the rate of previous gen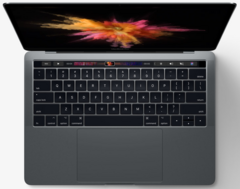 A new analysis of MacBook Pro keyboards suggests that since their introduction, there have been twice as many service requests for keyboard repairs. The study seems to align with reports that MacBook Pro users have had to deal with stuck keys or keys that are non-responsive.
Another report of Apple's current MacBook Pro keyboard woes have surfaced. This time, Apple Insider has surveyed several Apple Genius Bars as well as Apple-authorized third-party repair shops to analyze the rate of service repairs for Apple's current MacBook Pro keyboards compared with the previous generation. According to the data, the new MacBook Pro introduced in 2016 is twice as likely to require servicing or repairs for keyboard-related issues.
The data obtained for the 2014 MacBook Pro model year revealed 2,120 service events. Of these, 118 required the upper case containing the keyboard to be replaced. This translates into roughly 5.6 percent of service issues pertaining to the keyboard. In 2015, the data contained 1904 service requests, with 114 related to the keyboard at a similar rate of about 6 percent. However, the data for 2016, which was the first year the MacBook Pro was introduced, showed 1,402 service events with 165 related to the keyboard at nearly double the rate at 11.8 percent.
While the data for 2016 doesn't discriminate between MacBook Pro models, nor does reflect anything like the total number of MacBook Pro service requests for the year, it does appear to coincide with complaints about the reliability of new butterfly mechanism underpinning the new MacBook Pro keyboards. The new keyboard has been lambasted by leading figures in the Apple community. Apple guru John Gruber of Daring Fireball calls the new MacBook Pro keyboard "one of the biggest design screwups in Apple history, while former Macworld Senior Editor Jason Snell argues that "it should be recalled."