3 fab tablets to fulfill those last-minute Christmas wish lists: Apple iPad mini 6, Xiaomi Pad 5, and Lenovo Tab M10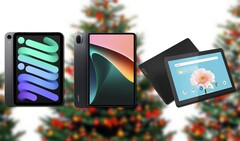 The choices and comments made on this list belong solely to the author.
Compiled by Daniel R Deakin - The choices and comments made on this list belong solely to the author and may not reflect Notebookcheck's opinions
1. Perfect for Apple fans
The iPad mini is a straightforward choice for those keen to be in possession of a fast and friendly tablet over the Holiday season this year. Apple has just updated the smallest member of its iPad family but has not been a Scrooge in terms of components. The iPad mini 6 comes with an impressive 64-bit A15 Bionic SoC, 4 GB memory, and 64 GB or 256 GB storage. A USB-C port replaces the Lightning connector, and new owners can delight in the crisp 8.3-inch Liquid Retina display and the stereo speakers. Prices for the Apple iPad mini start at US$499/£479, and it comes in a choice of space gray, pink, purple, and starlight.
No Apple fan should be without a 2021 iPad mini this Holiday season.
2. A surprising entry into the Android slate arena
There had been rumors of a new Mi Pad coming from Xiaomi for a long time before the Pad 5 (and Pad 5 Pro) started showing its face. Xiaomi carefully waited for a dip in the Android tablet market before wowing its legions of fans with a premium product that although still quite pricey has a lot to offer for the money. The base Xiaomi Pad 5 comes with a Snapdragon 860 processor, with RAM starting at 6 GB and storage options commencing at 128 GB. A huge battery (8,720 mAh) means plenty of use time with the 11-inch Pad 5, which can tempt with its WQHD+ 120 Hz display.
Official prices start at £369 in the UK, with the Mi Pad 5 being a great alternative for those who aren't so enamored with the fruit company mentioned above.

3. A cheap Android option with enough bang for the buck
While there may have been expectations for a Samsung Galaxy Tab SKU to appear on this particular list, not everyone has around US$500 or more to spend on a single Christmas gift, even if it is a high-end tablet hiding inside the wrapping paper. The Lenovo Tab M10 is a great family tablet that shouldn't be overlooked just because it hasn't got the most cutting-edge components and has a few years behind it now. It does feature a quad-core Snapdragon 429 processor and comes in a handy 10.1-inch form with expandable storage space. It's a cheap and cheerful offering from a company that knows how to make some incredible tech devices.
Lenovo has officially discontinued the tablet in the US, but it can be had for bargain prices if you shop around, and it is ideal for those who are more rambunctious with their gifts.

My interest in technology began after I was presented with an Atari 800XL home computer in the mid-1980s. I especially enjoy writing about technological advances, compelling rumors, and intriguing tech-related leaks. I have a degree in International Relations and Strategic Studies and count my family, reading, writing, and travel as the main passions of my life. I have been with Notebookcheck since 2012.