Xiaomi Mi Note 2 Pro: 8 GB of RAM, 2,6 Ghz processor and 256 GB of storage?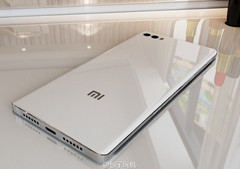 A leaked screenshot possibly revealed an updated Pro version of the alleged Xiaomi Mi Note 2-series. It might come with up to 8 GB of RAM, up to 256 GB of storage and a faster 2.6 GHz processor. The question is: when will it be released?
The alleged release date of the Mi Note 2 passed and nothing happened. Recent rumors about the Note 2-series even mentioned that Xiaomi might have scrapped it altogether and went for a larger Plus version of the Mi 5S instead, which is now most likely being announced on September 27th. However, a very recent screenshot of an alleged Pro version of the Mi Note 2 appeared in China and shows that the Note 2-series could be alive and well and might even come with impressive updated specs.
The screenshot mentions 8 GB of RAM, which we all thought would go into the LeEco Pro 3 first but apparently didn't. It also shows 256 GB of storage and a processor that runs at 2.6 Ghz. We do not know which model this is supposed to be. The Snapdragon 820 runs at up to 2.2 Ghz, the Snapdragon 821 can reach 2.4 Ghz. Maybe Xiaomi is already testing a future version? The Android version mentioned on the screenshot is Android 7 with MIUI 8.6.9.8 on top. Now the big question is, when will Xiaomi announce it officially? We assume it will be sometime in 2017. Xiaomi is expected to reveal the Mi 5S next week on the 27th of September. We doubt it will release another flagship phone just a few weeks later but we might hear more about this next week. Stay tuned!