WhatsApp to update its current set of emoji stickers; is working on animated ones, too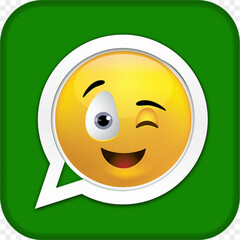 WhatsApp is reportedly working on animated stickers in its latest betas. This enables a user to superimpose a a moving piece of art (e.g. a drawing or character) on a message. A blog has also apparently found that the app is going to replace its existing emoji design with a new one.
WhatsApp will reportedly introduce a function by which the user can add an animated sticker to their message. This will be done via a new mode known as Doodle UI, whereby a new message (or possibly a photo) can be edited to have an object such as a cartoon animal superimposed on it.
This new option may be found in the latest WhatsApp beta (v2.19.106 beta). It has been brought to light by the blog WABetaInfo. This site also claims to have access to WhatsApp's latest emoji pack. This replaces the existing, rather flat selection with new counterparts with more of a 3D effect.
These features may also be used as either regular emojis, or as stickers. To date, they are not available in the current beta; WABetaInfo has also stated that it does not have any details on when they will appear within this version of WhatsApp. However, current members of this program can enjoy the fingerprint authentication feature, which also apparently blocks the ability to take a screenshot of a given conversation.