UMi Z: First flagship phone with Helio X27 will be announced December 12th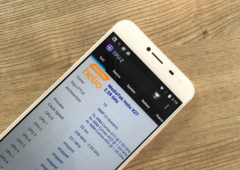 The UMI Z will be the first flagship phone to be released with the new MediaTek Helio X27 processor. The phone will be announced early next week on December 12th and feature a dual-cam.
Chinese smartphone manufacturer UMI will be the first to release a smartphone with one of the new MediaTek processors, the Taiwanese company released not too long ago. The UMI Z, which will be the new UMI flagship phone is said to come equipped with the Helio X27 processor and will be released as early as next week.While we do not know many details about the phone yet, we can see from the leaked pictures that it will feature a dual-camera on the back. The Helio X27 will come with special support for dual-cameras so it makes sense for UMI to choose it over the previously available Helio X25. Apart from the dual-cam we also heard, that the UMI Z will come with a 3,780 mAh battery. Another phone that will be released with the Helio X27 will be the Elephone S8 by the way.