MediaTek announced the launch of the Helio X23 and Helio X27 mobile processors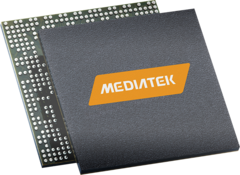 Both new Helio chips will offer more speed over the current X20 and X25 processors and introduce support for dual-cameras thanks to an updated Image signal processor. They will also be more power efficient.
MediaTek announced new arrivals for their current lineup of mobile processors in the Helio X20 family, that currently consists of the Helio X20 and Helio X25 chips. Both the Helio X23 and the Helio X27 systems on a chip (SOC) will run at higher speeds compared to the X20 and X25, however they are still Deca-Core processors integrating two ARM Cortex A72 cores and eight Cortex A53 cores at varying frequencies. MediaTek announced a speed increase of up to 20 percent compared to their older brothers.
Hence MediaTek is following a similar pattern to Qualcomm who introduced the Snapdragon 821 as a higher clocked version of the Snapdragon 820 earlier this year. However MediaTek did not only increase clock speed. They also updated their Imagiq image signal processor (ISP) inside the X23 and X27 to add support for dual-cameras and improve image processing algorithms. Last but not least MediaTek added two more power saving technologies thar are expected to lower power consumption on the new chips substantially.