The latest Huawei Mate 30 display leak shows a smaller notch than the last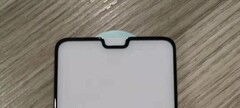 The upcoming Huawei flagship series is linked to a number of highly unusual design choice via its leaks already. One of them indicates that these phones will come with display notches (again). However, a new image depicting a screen protector allegedly made for the Mate 30 shows a different kind of notch this time around.
The Huawei Mate 30 series has not been released yet. Nevertheless, it is already linked to a circular camera module that would be new to this OEM. Other rumors suggest that the new phablets will stick with a screen notch for its front-facing sensors. A new leak supports this theory, although it now suggests that this feature may differ across Mate 30 variants.
It consists of an image that shows what is alleged to be a screen protector for the Mate 30. It has stark black borders that make the presence of a notch unambiguously clear. There is also a second image, this time showing what may be a complete screen for the same phone. This photo shows a notch that matches the one outlined by the screen protector.
This notch, unlike those shown in earlier Mate 30 leaks, looks more like that found in the P20 Pro. The "screen assembly" image suggests that, like this phone, it houses dual selfie cameras. Pre-existing images, however, hint at a comparatively expanded notch that accomodates many more sensors. This, then, may be evidence that the former pertains to the Mate 30, while the latter corresponds to the 30 Pro.