The Google Pixel 4 XL's AMOLED display sets new records in DisplayMate's test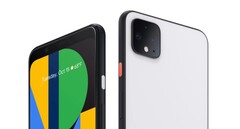 The new Google Pixel 4 phones may have their issues but the quality of their displays isn't to be questioned—that of the bigger Pixel 4 XL, at least—if DisplayMate's latest review is anything to go by. The new flagship has won the Best Smartphone Display Award while smashing records along the way.
Google launched the Pixel 4 and Pixel 4 XL a few days ago. While the devices have been met with a mixed reception, it's almost universally agreed that the phones' AMOLED 90 Hz displays are one of their biggest strengths. There's now more solid evidence of that, as the Pixel 4 XL set a whole bunch of new records on DisplayMate's test.
Going by DisplayMate's review, the Pixel 4 XL's display is a major improvement over the Pixel 3 XL's, showing a a 10% higher peak brightness, 6% higher display power efficiency, and a significantly improved absolute color accuracy. (Pixel 3 XL on sale now at Amazon)
The Pixel 4 XL features an AMOLED QHD+ 90 Hz display, only the third device in the world—after the OnePlus 7 Pro and 7T Pro—to have that particular combination of features. The panel itself is of the best quality, going by DisplayMate's evaluation. It matches or sets records for absolute color accuracy, contrast ratio, screen reflectance, and brightness variation with viewing angle.
While it's nice to see the Pixel 4 XL do well in a standardized test of sorts, DisplayMate's tests, much like DxOMark's, shouldn't be taken as gospel. The website tends to crown every new Samsung and Apple flagship with the "Best Smartphone Display" award. In fact, we're willing to bet that the Galaxy S11+ will be the next phone to earn this same award.