The Samsung Galaxy S2 and Galaxy Note 3 can now be upgraded to Android 10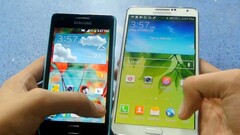 While Samsung has adopted a two OS update policy for years, there are still ways of getting new versions of Android on older handsets. The Galaxy S8 and Note 8 are more recent examples of this, but so are the much older Galaxy S II, or Galaxy S2 as it is more commonly known, and the Galaxy Note 3.
Off the bat, Samsung has not upgraded the Galaxy S2 and Note 3 to One UI 2.0. The company continues to ardently stick to its two-year software update policy, meaning that even the definitely capable Galaxy S8 and Note 8 have missed the cut for Android 10. Thankfully, community developers are on hand to plug the gap of first-party support, as is the case with the Galaxy S8 series and Note 8.
Few devices have been supported by community developers for as long as the Galaxy S2 and Note 3 have, though. Released in 2011 and 2013 respectively, community developers have kept the two devices going years after Samsung stopped supporting them.
Now, developers have brought Android 10 to the two devices, courtesy of unofficial versions of LineageOS 17.1. Please keep in mind that the ROM for the S2 remains in Alpha and is unstable, but it is steadily receiving updates. By contrast, all major elements are working for the Note 3 version.