The Samsung Galaxy S11 phones are set to deliver game-changing zoom abilities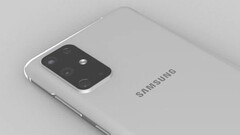 Every new leak only serves to confirm that Samsung will offer unrivaled camera performance on its upcoming Galaxy S11 phones. According to a new report, the Galaxy S11 line will feature a high-res sensor—48 MP at least—as its telephoto shooter. Even better, all three phones will get such a sensor, even the S11e.
Another day, another Galaxy S11 leak. The S11 phones have leaked extensively over the past few weeks, and that doesn't seem to be set to end anytime soon. It's expected, of course, seeing as they're just two months away from launch at this point. There's been plenty of information on the S11+'s 108 MP camera, but a new leak now tells us something about the telephoto capabilities of the phones.
According to popular leakster Ice Universe, the telephoto shooters on the S11 series will be high-res, with none being under 48 MP. Most important of all is the fact that the source confirms that this specification holds true across the three devices in the lineup—the S11e, S11, and S11+.
That's a nice change of pace considering most leaks point towards the super 108 MP sensor being exclusive to the S11+. It also confirms the fact that the S11e will have a telephoto shooter, something the S10e lacks.
We're not sure what sensor Samsung will use. The three best zoom smartphones on the market—the Mi Note 10, Huawei P30 Pro, and OPPO Reno 10x Zoom—use 5 MP, 8 MP, and 13 MP sensors respectively. It'll be interesting to see how the S11 phones perform with a higher-res sensor.
Samsung will lead the high-pixel telephoto lens, and the telephoto cameras of the S11e, S11, and S11 + are not less than 48MP.

— Ice universe (@UniverseIce) December 19, 2019