Leakster Ice Universe offers sneak peak at the Galaxy S11 camera array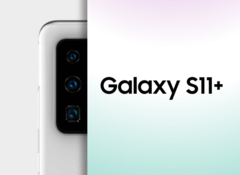 Noted Samsung insider Ice Universe is back at it again leaking a sneak peak at what he expects the rear camera array on the Galaxy S11 and S11+ to look like. However, the leakster isn't yet sure how the expected flash and ToF sensor will be distributed to the right.
There aren't many smartphones that reach the market these days that haven't been leaked, either deliberately by the OEM, or by insiders. The Samsung Galaxy S11 and S11+ are no different in this regard. Arguably the most connected Samsung insider, Ice Universe, is at it again, giving us a sneak peak that how at least one half of the rear camera array is going to like when it launches in Q1 next year.
As for the right-hand side of the camera array, Ice Universe expects to find a flash and a 3D ToF sensor for a total of four rear cameras, although he isn't sure exactly what the precise location of these elements will be. However, Ice Universe has given us an insight into what to expect in terms of camera specifications. The main camera will be Samsung's vaunted new 108 MP sensor capable of 9-pixel binning which should provide stunning detail and exceptional low-light performance. The other two cameras include a periscope zoom type and an ultra-wide type, both rated at 12 MP.
Ice Universe also expects the batteries on the Galaxy S11 and S11+ to blow the iPhone 11 range (touted for improved battery life) out of the water. The smaller S11 will pack a whopping 4,500 mAh battery while the larger S11+ will pick up an almost tablet like 5,000 mAh battery. Samsung has taken a hit with its flagship sales in the past 12 to 24 months and it looks like it is really pulling out all the stops to make sure the Galaxy S11 range makes a splash when it launches early next year.