The Inkplate 6: a new platform for fans of Arduino programming, e-paper and custom design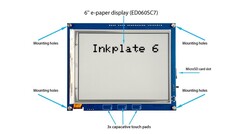 The Inkplate 6 is a new product directed at those who like to make custom electronics from (nearly) scratch. It is a display that offers all the advantages of e-paper, as well as support for the hardware and software to customize it (its housing included) in a wide variety of ways. It also has a USB interface to power it, making it more versatile than many similar options.
The Inkplate 6 is a bare-bones display that may inspire a hobbyist to craft any housing they wish for it. It has a number of advantages as such a DIY panel, not the least of which is the low-energy, high-contrast and easy readability of e-paper. In fact, each of these Inkplates is harvested from a Kindle e-reader, which makes it sustainable too.
This also means it has an ESP32 microcontroller, which means in turn that it has Wi-Fi and Bluetooth 4.0. Therefore, the user can update it wirelessly. The Inkplate 6 can be programmed to show a broad range of content and information, meaning it could be used as anything from a dynamic, electronic white-board to a grayscale picture-frame.
This can be done via the Arduino IDE or a MicroPython console, the results of which can be transmitted to the display via GPIO pins. The Inkplate 6 also supports easyC/Qwiic, I²C and SPI. Alternatively, it has a microSD card reader. It also has a USB interface for charging, or can hook up to a battery source. Given that it can draw as little as 25 microamps, it could last weeks per charge.
This innovative maker's display is being sold through CrowdSupply for US$99. This campaign has attracted just over 250% of its original $10000 goal, although it has 12 days left to run (correct at time of writing). Its creator, e-radionica, states that orders completed now will ship from April 2020.