The Google Assistant Ambient Mode is now official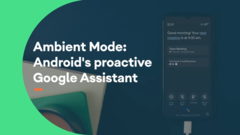 Google introduced Ambient Mode for the Assistant at I/O 2019. It is a kind of alternative interface for Android devices that makes them take on the functions of a smart display. This can involve a revolving series of screens showing calendar information, photos or other content.
Google announced its intention to bring an Ambient Mode to its Assistant app. Now, the company has revealed that it will start to roll out soon. This new setting is to become available on devices that run Android 8.0 (Oreo) or above. However, an ArsTechnica correspondent claims to have heard that it will only work on devices from Nokia, Xiaomi, Sony and some brand called Transsion at present.
Ambient Mode for Google Assistant is a feature that converts the average device into more of a smart display. Its abilities have already been demonstrated on Lenovo's Yoga Smart Tab and Smart Tab M8 HD. In addition, it has also been reported to work on the newer Nokia 6.2 and 7.2.
This mode is intended to become active in situations when the phone in question is not in normal use. For example, Google says it can be set to start when a device is plugged in to charge. Thereafter, it may carry out display-centric tasks such as photo slideshows. The Mountain View company has also stated that it is "deeply integrated" into Android, which probably means it can pull data from other apps such as Calendar or Music in order to function.