The CPSC officially announces the Note 7 recall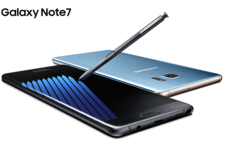 Two weeks after Samsung, the US Consumer Product Safety Commission has issued an official recall of the Note 7 handsets sold locally as well. There are over 1 million units affected, including those sold by Verizon Wireless, AT&T, T-Mobile, Sprint, US Cellular, and even Best Buy.
Two weeks ago, Samsung made it official - what started as a few isolated incidents turned into a huge worldwide recall that involves more than 2 million Note 7 phablets. In the US alone, the recall affects around 1 million units. Now, the recall has just been announced by the US Consumer Product Safety Commission as well.
According to the description of the CPSC, "The lithium-ion battery in the Galaxy Note7 smartphones can overheat and catch fire, posing a serious burn hazard to consumers." The recall targets all Galaxy Note 7 handsets sold until yesterday. This includes all units sold in the US via Best Buy and the major carriers.
The CPSC page about the recall also reveals that, until now, Samsung received 92 reports of overheating Note 7 batteries. Of these, 26 reports mentioned burns, while 55 involved property damage - including fires in cars and a garage. As mentioned by Samsung already, customers who own a Note 7 affected by the recall are entitled to a refund or a new replacement device. According to Samsung, new Note 7 phablets without the battery issues will become available next week.