Gamescom 2018 | The Asus Strix Scar II GL704 — finally, a 17-inch laptop with narrow bezels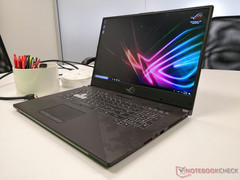 There have been no notebooks with both narrow bezels and 144 Hz panels until now. Asus has teamed up with AU Optronics to develop a 17.3-inch 144 Hz/3 ms panel made specifically for gaming and the narrow-bezel GL704 will be the first to use it.
Laptops with narrow bezels have been around for a few years now, but they have all been 15 inches or smaller in screen size due to production limitations from panel manufacturers. While 15-inch gaming laptops are getting lighter and sexier, their 17-inch counterparts have been chugging along with thick and unsightly bezels. Fortunately, Asus will be changing all this soon with the 17.3-inch ROG GL704GM.
The GL704GM succeeds the older GL703 and it is essentially the 17-inch version of the 15-inch ROG Strix Scar II GL504. Its bezels are just 7.05 mm thick on three sides to be 40 percent thinner than on the GL703 without sacrificing display quality. In fact, the GL704GM is the first 17-inch notebook we know of to carry a 1080p 144 Hz IPS panel with a fast 3 ms gray-to-gray response time.
Something to keep in mind is that the GL704GM will be limited to GTX 1060 graphics even though Asus says the chassis was designed to support "GTX 1070-class" graphics. It's likely that the GL704GM will be accompanied by a "GL704GS" or equivalent SKU in the future with GTX 1070 or even GTX 1170/2070 Turing options. Until then, however, the GTX 1060 will be the only GPU available at launch.
Asus is keeping quiet on the prices of the GL704GM, but we can expect it to become available by this upcoming September alongside the Zephyrus GX531. Both it and the Zephyrus will be at Gamescom and IFA for visitors to check out. Since there are no other narrow-bezel 17-inch gaming laptops at the time of writing, the GL704 currently has no direct competitors. Keep an eye out for our review of the 15-inch GL504 coming soon as the 17-inch GL704 shares the same design language.