List of new Asus Z390 'Coffee Lake-S Refresh' motherboards revealed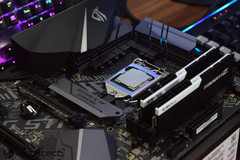 A list of Asus motherboards that will sport the upcoming Intel Z390 chipset were revealed in an Asus support document. The Z390 is spread across the Maximus XI, Strix, Prime, TUF, and Dragon brands.
The Intel 9th generation 'Coffee Lake-S Refresh' CPUs are expected to debut this September and Intel's partners have started readying their motherboards for the impending launch. Asus is apparently readying no less than 19 boards based on the Z390 chipset with the Maximus XI touted to be the flagship series of boards. These boards include —
Maximus XI
ROG MAXIMUS XI APEX
ROG MAXIMUS XI CODE
ROG MAXIMUS XI EXTREME
ROG MAXIMUS XI FORMULA
ROG MAXIMUS XI HERO
ROG MAXIMUS XI HERO (WI-FI)
Z390 Strix
ROG STRIX Z390-E GAMING
ROG STRIX Z390-F GAMING
ROG STRIX Z390-H GAMING
ROG STRIX Z390-I GAMING
Z390 Prime
PRIME Z390-A
PRIME Z390M-PLUS
PRIME Z390-P
Z390 TUF
TUF Z390M-PRO GAMING
TUF Z390M-PRO GAMING (WI-FI)
TUF Z390-PLUS GAMING
TUF Z390-PLUS GAMING (WI-FI)
TUF Z390-PRO GAMING
Z390 Dragon
Z390-DRAGON (Restricted to China)
The above list comes courtesy of an Asus support site detailing a new user profile function in the BIOS. While we've reported that the entry-level H310 chipset can support the new 9th generation 'Coffee Lake-S Refresh' CPUs, they are no doubt paired best with the Z390 chipset-based. For those not in the know, the Z390 is a rebadged Z370 chipset that continues to be based on the 22nm process. The Z390 was originally meant to be a 14nm part with integrated USB 3.1 Gen2 host controllers and onboard 802.11ac Wi-Fi but Intel's delays with 10nm and the need to ramp up production of 14nm CPUs meant that the 14nm transition in the Z300-series has been pushed to a later date.