Seeedstudio launches the re_computer, an SBC-customisation service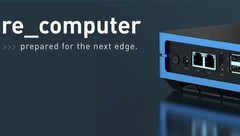 Centred on Edge computing, Seeedstudio hopes that the re_computer will provide better access for people looking to get into single-board computers. The service allows people to assemble custom-built devices that should suit a wide range of use cases.
Following over a decade as an IoT supplier, Seeedstudio has launched re_computer, a custom-built SBC service. Designed for those who are want to delve into the world of Edge computing, Seeedstudio states that the service is simple to use even for those without an engineering background.
Essentially, the re_computer service allows people to assemble custom-built SBCs from off-the-shelf components. Split into System Boards, Mission Boards and I/O modules, the re_computer currently offers four SBCs as a base at the time of writing. These are:
BeagleBone Green
Google Coral Dev
NVIDIA Jetson Nano Dev Kit
Raspberry Pi 4
Seeedstudio adds that it will include other SBCs from which to choose by the end of the year. The company is also offering access to its Seeed ecosystem and also the option of bringing prototyped units to market.
The re_computer service is available to use now.