Razer puts face masks into development to help combat the COVID-19 pandemic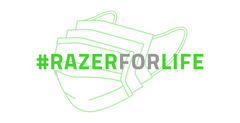 Razer is now making face masks. Likely a temporary move during the COVID-19 pandemic, the move follows on from it redesigning its logo to promote social distancing.
Razer is dipping its toes into the face mask game. However, while companies like Xiaomi are putting "smart" face masks into development, the ones that Razer is developing are in direct response to the COVID-19 pandemic.
These masks will not carry Razer's iconic branding either, not even its redesigned logo. According to a press release, the "fully automated mask production and packing line" will open by early May.
Razer has already converted existing product manufacturing lines in China to make and donate masks. Initial shipments of masks started last week, but the volume of requests that the company has received to produce more masks prompted it to open a dedicated plant.
Additionally, the Singapore-based plant will be certified to Singapore and international standards. However, Razer has confirmed that it will be only supplying Singapore and Southeast Asia with the masks that it produces.