Promotional video shows Surface Laptop prototype with USB Type-C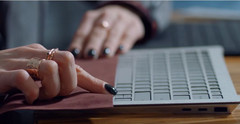 Microsoft's own promotional video for their new Surface Laptop reveals that the education-focused device originally sported two USB Type-C ports in addition to the single USB Type-A.
When Microsoft's Surface Laptop was revealed yesterday, one of the first things people noted was the conspicuous absence of USB Type-C. Well, someone with sharp eyes at The Verge spotted that a prototype of the Surface Laptop shown in a promotional video by Microsoft did indeed have USB Type-C ports — at one point, at least.
The lack of USB Type-C was waved away by Microsoft due to issues of power draw, cables, and market adoption, according to Ubergizmo. However, given that the Surface line is designed to create market segments for OEMs to fill and help pilot the PC industry forward, these excuses seem silly. Without companies like Apple or Microsoft pushing USB Type-C, it's hard to imagine quick adoption of the new universal standard. While the USB Type-A port is certainly welcome on the Surface Laptop, it's hard to imagine how a US$1000-2000 laptop in 2017 can completely lack the connector.

Instead of the USB Type-C ports shown in the promotional materials, the Surface Laptop has one USB Type-A, DisplayPort, and Surface (proprietary) port each.