Plugable 5-in-1 USB-C Hub cheaper model for MacBook now available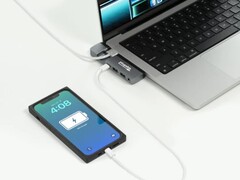 The Plugable 5-in-1 USB-C Hub has been launched. The gadget, designed for the MacBook, provides two USB 3.0 ports with a 5 Gbps file transfer rate. Two USB-C connectors plug into the host device with a snug fit, while a USB-C port is compatible with Thunderbolt and USB4 devices.
The USB-C port delivers 100W pass-through charging, 15W downstream charging and 40 Gbps data transfer. It is worth noting that pass-through charging requires you to supply your own USB-C charger. You can also use the USB-C port to connect a [email protected] display. Other ports on the Plugable USB-C 5-in-1 hub include audio in/out and Gigabit Ethernet, plus there is a cut-out, providing space for the MagSafe laptop charger.
The Plugable device is compatible with MacBook Pro and MacBook Air devices running MacOS 11 and above, such as the M2 MacBook Air. Plugable suggests that the gadget is easy to set up as it does not require drivers or software installation. The device has an aluminum casing, measures around 13.31 x 5.41 x 1.7 cm (~5.24 x 2.13 x 0.67-in) and weighs approximately 50 g (~1.76 oz). You can now buy the Plugable 5-in-1 USB-C Hub for the relatively low price of US$32.95 (or £41.95 or €42.32) at the Plugable online store or Amazon.
I've been interested in technology for as long as I can remember. From a young age, I have loved gadgets and understanding how things work. Since graduating, I have worked for several technology companies across FinTech, AdTech and Robotics.