Patriot P300 P512GM28US PCIe x4 NVMe 512 GB SSD Benchmarked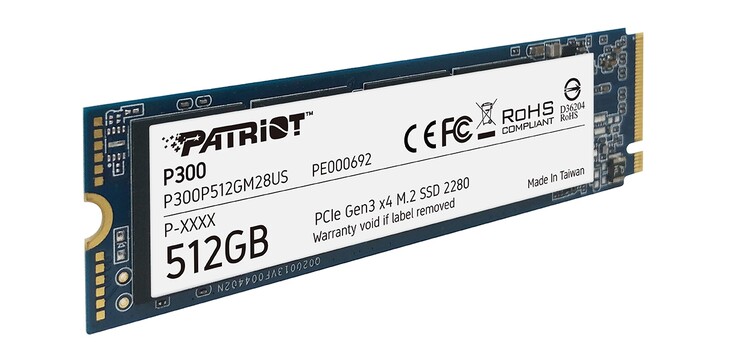 The Patriot P300 series is the company's mid-tier lineup of M.2 SSDs in contrast to the higher-end Patriot Viper series designed for gamers. Patriot wants the P300 to be an affordable solution for SATA III users ready to make the plunge into NVMe SSDs.
Current options range from 128 GB all the way up to 2 TB with a starting price of $35 USD. Retailers like Amazon and Newegg already have the P300 in stock and the manufacturer is selling the drive directly as well. Our benchmarks below reflect the 512 GB version of the drive.
P300 m.2 PCIe Gen3 x4 SSD Specification Comparison

Capacity

256 GB

512 GB

1 TB

Model Number

P300P256GM28

P300P512GM28

P300P1TBM28

Controller

Next-generation Controller

Form-Factor, Interface

M.2-2280, PCIe 3.0 x4, NVMe 1.3

Sequential Read

1,700MB/s

2,100MB/s

Sequential Write

1,100MB/s

1,200MB/s

1,650MB/s

4K Aligned Random Read IOPS

290K IOPS

4K Aligned Random Write IOPS

260K IOPS

TBW

80 TB

160 TB

320 TB

Power Consumption

Full: 2.07W
Idle: 0.37W

Full: 2.07W
Idle: 0.37W

Full: 2.38W
Idle: 0.38W

O/S Supported

Windows™ 7/8.0/8.1/10

Features

• HMB technology (win 10)

• NANDXtend ECC technology

Warranty

Limited 3 years

MTBF

2,000,000 hours

MSRP (US Only)

US$ 64.99

US$ 104.99

US$ 164.99
Test System
Our host system for the Patriot SSD will be the 17.3-inch Walmart EVOO Gaming 17 laptop which is able to house dual M.2 PCIe x4 SSDs and even a 2.5-inch SATA III drive. Installation is as straightforward as it can be; we inserted the SSD as a secondary drive before booting up the laptop as normal.
See our review on the Walmart EVOO Gaming 17 to learn more about the system.
AS SSD & CrystalDiskMark
We're able to reach the advertised read rate of 1700 MB/s when running CDM at a queue depth of 32 on a single thread. While results are at least two to three times faster than SATA III, the competing 1 TB Western Digital Blue SN550 is faster across the board. You'll have to upgrade to the 1 TB P300 for faster speeds of up to 2100 MB/s.
Patriot P300P512GM28US


, , Patriot P300 P300P512GM28US

Western Digital Blue SN550 NVMe


, , Western Digital Blue SN550 NVMe SSD 1 TB WDS100T2B0C

Kingston KC600


,

Razer Blade Stealth i7-1065G7 Iris Plus


Iris Plus Graphics G7 (Ice Lake 64 EU), i7-1065G7, Samsung SSD PM981 MZVLB256HAHQ

Dell XPS 15 7590 9980HK GTX 1650


GeForce GTX 1650 Mobile, i9-9980HK, Toshiba XG6 KXG60ZNV1T02

CrystalDiskMark 5.2 / 6

41%

-33%

26%

33%

Write 4K

128.5

Read 4K

30.98

Write Seq

1111

Read Seq

1100

Write 4K Q32T1

533

Read 4K Q32T1

652

Write Seq Q32T1

1540

Read Seq Q32T1

1707

Write 4K Q8T8

1469

343.4

Read 4K Q8T8

1434

372.1

AS SSD

6%

-30%

-29%

41%

Copy Game MB/s

1222

Copy Program MB/s

1202

Copy ISO MB/s

1088

Score Total

2458

Score Write

1408

Score Read

683

Access Time Write *

0.092

Access Time Read *

0.024

4K-64 Write

1147

4K-64 Read

553

4K Write

131.7

4K Read

24.37

Seq Write

1300

Seq Read

1060

Total Average (Program / Settings)
* ... smaller is better
ATTO
The ATTO benchmark tests various block sizes from 512 bytes to 64 Megabytes to paint a broader picture of SSD performance. In this scenario, we can see that read and write rates top out about 1.44 GB/s to 1.6 GB/s each at block sizes of 256 KB and greater. In comparison, the gaming-centric Asura Genesis Xtreme tops out at 3 GB/s to imply that the Patriot SSD isn't fully exploiting the PCIe x4 interface due to its budget specifications.
Patriot P300P512GM28US


, , Patriot P300 P300P512GM28US

Western Digital Blue SN550 NVMe


, , Western Digital Blue SN550 NVMe SSD 1 TB WDS100T2B0C

Kingston KC600


,

Intel NUC8i7BEH Asura NVMe SSD


Iris Plus Graphics 655, i7-8559U, Asura Genesis Xtreme NVMe M.2 SSD 1 TB

Samsung 960 Pro 1TB


Titan X Pascal, E5-2680 v4, Samsung SSD 960 Pro 1TB m.2 NVMe

ATTO Disk Benchmark

48%

-51%

115%

123%

8192KB write

1440000

4096KB write

1440000

2048KB write

1440000

1024KB write

1440000

512KB write

1440000

256KB write

1420000

128KB write

1440000

64KB write

1420000

32KB write

1390000

16KB write

1350000

8192KB read

1470000

4096KB read

1590000

2048KB read

1590000

1024KB read

1470000

512KB read

1450000

256KB read

1520000

128KB read

1150000

64KB read

615190

32KB read

411140

16KB read

217710
Verdict
The Patriot P300 series has found itself in a tight spot in the current market. The competing 500 GB WD Blue SN550, for example, offers similar read and write rates as our 512 GB P300 (1700 MB/s read and 1100 MB/s write) while retailing for less on Amazon ($65 vs. $80). WD even offers a longer limited manufacturer warranty of 5 years compared to 3 years from Patriot. The P300 series will have to drop in price sooner rather later or it will risk being overlooked by budget-conscious users and PC builders.
After graduating with a B.S. in environmental hydrodynamics from the University of California, I studied reactor physics to become licensed by the U.S. NRC to operate nuclear reactors. There's a striking level of appreciation you gain for everyday consumer electronics after working with modern nuclear reactivity systems astonishingly powered by computers from the 80s. When I'm not managing day-to-day activities and US review articles on Notebookcheck, you can catch me following the eSports scene and the latest gaming news.