Acer FA100 M.2 NVMe SSD Benchmarked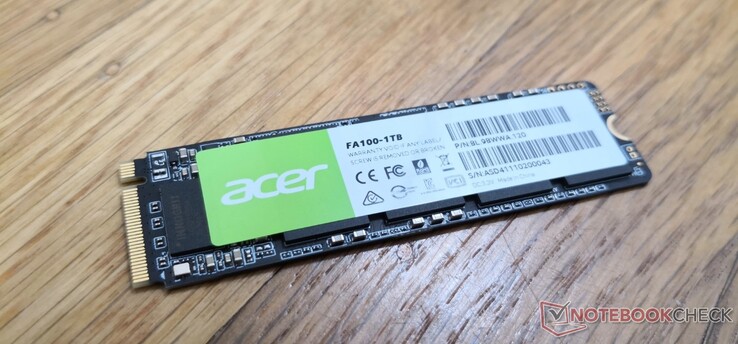 Through a partnership with BIWIN, Acer has now made available several new flash products including the 2.5-inch SA100 SSD, M.2 FA100 NVMe SSD, and HT100 RAM module. Our benchmarks below are for the single-sided 1 TB FA100 NVMe SSD with other capacities available ranging from 128 GB up to 2 TB.
Prices and availability of the SA100, FA100, and HT100 series have yet to be announced at the time of writing. Other key details like the NAND Flash technology and Terabytes Written (TBW) remain unknown as well. More information on various Acer storage products can be found on its official website here.

| | Acer FA100 1 TB | HP EX900 Pro 1 TB | SK Hynix Gold P31 1 TB | Samsung PM981 1 TB |
| --- | --- | --- | --- | --- |
| NAND Flash | -- | -- | 128-layer 4D NAND | 64-layer V-NAND |
| Controller | -- | SM2263EN | SK Hynix Cepheus | Phoenix |
| Sequential Read | 3300 MB/s | 2100 MB/s | 3500 MB/s | 3200 MB/s |
| Sequential Write | 2700 MB/s | 1950 MB/s | 3200 MB/s | 2400 MB/s |
| Warranty | 5 years | 5 years | 5 years | -- |
| TBW | -- | 650 | 750 | -- |
| Price (USD) | TBA | $150 | $135 | $260 |
Acer FA100 1 TB
Note: The manufacturer may use components from different suppliers including display panels, drives or memory sticks with similar specifications.
potential competitors in comparison
Test System
Our host system is the Intel NUC11TNKi5 mini PC which can accept up to two M.2 SSDs. Most notably, it fully supports PCIe 4.0 SSDs meaning we've installed our Acer FA100 PCIe 3.0 drive onto a slot with wider bandwidth than it can handle.
See our review on the Intel NUC for more information on the system and its features.
Acer SSD FA100 1TB
CDM 5/6 Read Seq Q32T1: 3216 MB/s
CDM 5/6 Write Seq Q32T1: 2641 MB/s
CDM 5/6 Read 4K Q32T1: 748 MB/s
CDM 5/6 Write 4K Q32T1: 630 MB/s
CDM 5 Read Seq: 1862 MB/s
CDM 5 Write Seq: 2481 MB/s
CDM 5/6 Read 4K: 64.6 MB/s
CDM 5/6 Write 4K: 250 MB/s
Disk Throttling: DiskSpd Read Loop, Queue Depth 8
Verdict
The new NVMe SSD from Acer faces stiff competition from the SK Hynix P31. Not only can the latter offer faster maximum read and write rates, but it is also able to reach those speeds at smaller block sizes to make it the faster budget SSD overall.
Currently, the 1 TB SK Hynix P31 retails for $135 USD on Amazon. Acer will have to launch its competing FA100 for much less if it hopes to attract a sizable userbase.
After graduating with a B.S. in environmental hydrodynamics from the University of California, I studied reactor physics to become licensed by the U.S. NRC to operate nuclear reactors. There's a striking level of appreciation you gain for everyday consumer electronics after working with modern nuclear reactivity systems astonishingly powered by computers from the 80s. When I'm not managing day-to-day activities and US review articles on Notebookcheck, you can catch me following the eSports scene and the latest gaming news.