New study suggests most Americans now believe their government should do more to regulate big tech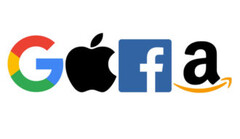 An industrial consultant firm, Grail Insights, has released the results of a survey-based study on public attitudes towards 'big tech' companies, their effects on consumer privacy and the role national authorities should adopt in the matter. They show that 62% of respondents believe that the government needs to step in when these corporations gain "too much power".
The results of a recent study on consumer attitudes towards big tech reportedly show that its subjects have a largely negative view of the global corporations in question, as well as the effect on society that they may exert. These results were based on the responses given by 1069 "US consumers", 62% of whom believe that the government should "protect them" from relevant bodies that have grown "too powerful".
Grail Insights, who designed this study and published its results on July 8, 2019, also claimed that this attitude was not affected by political affliation. It reported that 65% of the respondents who identified as Democrat reported feeling this way about big tech, whereas 60% of Independents and over 50% of Republicans respondents also returned the same responses.
Furthermore, 52% of the respondents thought that the government should dissolve large-scale businesses in the relevant sphere that had "consolidated too much power". Again, this figure varied "slightly" depending on political leanings. Finally, 56% of these individuals reportedly believed that when these companies had acted to promote user data privacy and security, they did so out of concern for their own interests and not those of the consumers involved.