Google is working with Qualcomm on the 'Trogdor,' a Snapdragon-powered Chromebook platform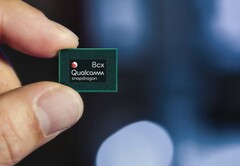 Google is currently working on at least two Snapdragon-powered Chromebooks based on a recent Chromium commit. The first was revealed late last year going by the codename 'Cheza' while the new model is known internally as 'Trogdor.' Both are ARM-based Chrome OS platforms that will find their way into OEM devices before the end of the year.
Google is working with Qualcomm on at least two Snapdragon-powered Chromebook platforms. We've previously seen a Chromium commit referencing the 'Cheza' motherboard and code and now a new codename has surfaced dubbed 'Trogdor.' Although there have been several ARM-based Chromebooks released in the past, none have yet to be powered by a Qualcomm Snapdragon chip.
The 'Cheza' Chromebook is based on last year's Qualcomm smartphone flagship chip, the Snapdragon 845 and could underpin an HP Chromebook currently in development. It should offer plenty of performance particularly if it is partnered 4 GB to 6 GB of RAM. The new 'Trogdor' Snapdragon-powered Chromebook platform is still based on the Snapdragon 845 at present, although the Chromium commit indicates that this is merely an interim measure. Qualcomm, of course, has more powerful silicon that it could stick in an ARM-based Chromebook.
To this extent, it is thought that the 'Trogdor' platform could be powered by a Snapdragon 855, which is found in most current Android flagship smartphones released this year. Qualcomm has also indicated that its slightly more powerful Snapdragon 8cx, which is headed to the latest Windows on ARM devices could also find a home in a Chromebook should there be demand for such a device. Either way, it is likely that we can expect to see one or two pretty powerful, and power efficient, Chromebooks on the market before the end of 2019.