New Microsoft Windows 10-Insider-Build brings 3D Paint & Unified Updates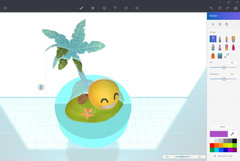 Microsoft's newly released Windows Insider Build 14959 already includes a few features that were announced for the Creators Update in March 2017. Apart from the redesigned 3D Paint app, Microsoft also integrated a better Windows Update-Version called Unified Update Platform.
If you are part of the Windows 10 Insider Program, you are eligible to download a new Preview build as of yesterday that will already give you a glimpse of what Microsoft has in store for us with the Creators Update, that is said to be released in March of next year. Insider build 14959 integrates a 3D capable version of Paint, that Microsoft wants you to use to create and edit 3D content on your PC. It will also still display and edit regular 2D images.
Another new feature in this recent Preview build is a newer version of Windows Update that Microsoft decided to call Unified Update Platform or UUP. It speeds up downloads and makes them smaller because only the changes to previous updates are being downloaded. Microsoft says, that this will make Windows Update a lot more efficient and minimize download sizes. If you are using Virtual Machines in Hyper-V, the new version has added support for proper scaling inside the virtual machine. Apart from these major changes, the new build also contains a lot of bug fixes but might introduce new ones so do not use it on production systems.