Microsoft: Windows event announced for 26th of October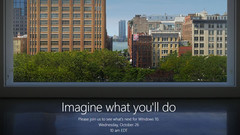 Microsoft has announced a Windows-centric event for October 26th. According to rumors Microsoft plans to unveil a Surface branded All-in-One PC, which was speculated about a lot the past months.
Microsoft is hosting an event on October 26. The event has been announced as a Windows-centric event. However, there have been rumors for months that the Redmond based company will unveil a Surface branded All-in-One PC (ala iMac) this fall, so an announcement on this event would be logical. A few days ago, a Surface-branded keyboard and mouse were leaked.
Despite this likely announcement, Windows 10 will most certainly be in the center of the attention at this event. Other new Surface models like the Surace Book 2 or Surface Pro 5 are planned for a Spring 2017 announcement, according to the normally well informed blog thurrott.com. And when and if the company will announce a rumored Surface Phone is still completely unclear.
This event will be streamed live, just like the Surface event last year. It will start at 10 am Eastern Standard Time.