Microsoft: Windows 10 Creators Update will allow you to pause updates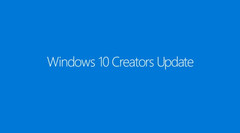 A leaked preview version of the next Windows 10 Update shows, that the Creators Update that is expected to be released in the first quarter of 2017 might allow you to pause updates for up to 35 days.
Microsoft may be planning to give users of Windows 10 a bit of control over updates back, judging from recent developments that can be witnessed in a leaked version of Windows 10. Build 14997 was not part of the regular Windows Insider builds but it also revealed a blue light filter before. Recently, the Winaero Blog reported that it also detected a new option in the advanced update controls of Windows 10, that will allow users to pause update installations for up to 35 days.
Currently it is not known if this option will make it into the final version of the Creators Update. Also Microsoft might restrict it to the Pro version of Windows 10 like they did with the option to defer Feature Updates and change into the Current Branch of Business which allows users of the Pro Edition of Windows 10 to keep getting security updates and bug fixes while deferring changes to the Windows 10 feature-set. Another change coming to the next version of Windows will be substantially smaller updates because only changes to previous updates will be transmitted.