NASA 50th Anniversary Watch by Xeric exceeds its goal by almost 100 times with more than two weeks to go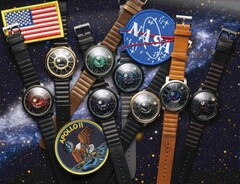 The 50th Anniversary watch by Xeric is the result of a collaboration between the watchmaking company and NASA. This already looks like a success: with 16 days to go, the Kickstarter project that involves this (non-smart) wearable is at over US$970,000. To get one of these special watches, one should pledge at least US$169.
Back in 2017, Xeric launched the Trappist-1 Moonphase watch to celebrate the discovery of the Trappist-1 planetary system that could sustain life. Now, the time has come to celebrate the 50th anniversary of mankind's first landing on the moon (or "alleged landing on the moon" if you happen to love conspiracies, but this article is not about that) with an entire lineup of Trappist-1 custom watches.
According to Xeric, the Trappist-1 was completely redesigned for the NASA Edition. The changes were based on the feedback from those who backed the Trappist-1 Moonphase and include the following: two times brighter luminous hands and silkscreened dials, a cupola-style space window grille, orbiting planetary system, shatter-resistant Hesalite glass, ribbed space glove straps, and more.
The NASA 50th Anniversary Apollo 11 Watch comes in both quartz and automatic versions. There are quite a few different designs available for purchase, such as Lunar Module, Saturn V, Apollo 11, ISS, Red Dwarf, Cosmic Nebula, and so on. All are 5 ATM waterproof and feature a hand-finished 316L stainless steel case.
Right now, there are still 16 days to go until the end of the "All or nothing" Kickstarter campaign that was initiated to ensure the funding of this limited edition watch. However, there is no doubt regarding its imminent success: the goal of US$10,000 is way behind the sum pledged so far of no less than US$975,727. The only problem is that the cheaper offerings are running out, so you'd better hurry up. The Trappist-1 Quartz NASA Edition starts at US$169 and will retail for at least US$250 while the automatic versions can be grabbed by early backers for US$279 and are expected to retail for US$450 or more.