MediaTek's Dimensity 1000 5G SoC beats Snapdragon 855 Plus and Kirin 990 in leaked AnTuTu benchmarks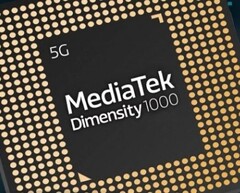 MediaTek finally demonstrates that it can design efficient and affordable flagship SoCs that can easily compete with Qualcomm's and HiSilicon's flagships. Apart from the integrated power efficient 5G modem, the latest MediaTek SoC offers an advanced gen 3 APU for A.I-powered applications. It will also be among the first chips to integrate the new Mali-G77 GPUs.
Taiwanese smartphone SoC maker MediaTek is mostly known for its excellent mid-range chips that make their way into the slew of Chinese handhelds, which offer an unbeatable price/performance ratio. Back in late 2018, MediaTek announced its intentions to bring 5G connectivity to its SoCs and the company claimed it will soon release affordable high-end competitors for Qualcomm's Snapdragon flagships. It looks like MediaTek not only kept its word with the recent announcement of the Dimensity 1000 5G SoC, but also surpassed expectations as far as performance goes, judging by a series of leaked AnTuTu benchmarks.

Now, the SoC appears to be codenamed MT6889 in the leaked benchmarks, so we are not 100% sure this is indeed the Dimensity 1000. Still, the tests mention the integration of a 3rd gen APU A.I. accelerator, which is also included among the Dimensity 1000 features. The performance offered by the 7 nm ARM Cortex-A77 + Mali-G77 GPU + APU 3.0 combo allowed the Dimensity 1000 to easily boost past the Snapdragon 855 Plus and the Kirin 990 in the AnTuTu V8 benchmark suite, scoring more than 511,000 points.

While this is quite an achievement for MediaTek, we should also keep in mind that Qualcomm has not yet announced its next gen Snapdragon 865 chip, which will most likely end up faster. However, MediaTek can still turn the tide in its favor, provided it can offer a more competitive price/performance ratio. This is especially of note considering that the Dimensity 1000 integrates one of the most power efficient 5G modems out there.