Launch event date for the OnePlus 6 confirmed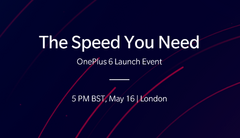 A launch event date for the OnePlus 6 flagship smartphone has finally been announced. The new device will be unveiled at a large arena in London, UK, on May 16. The Shenzhen-based manufacturer has also revealed another launch event that will take place in Beijing, China, on May 17. Tickets for the London launch event went on sale today.
The OnePlus 6 flagship smartphone has finally received an official launch event date: May 16. The Chinese smartphone-maker has advertised details about the upcoming event on its website. The device's big reveal is scheduled to take place at London's Copper Box Arena, which was built as a venue for the 2012 Summer Olympics and has a capacity of 7,500. Early bird tickets for the event currently cost £16/€18/US$21. Ticket prices will go up on April 27 to £30/€34/US$41.
Rumors and leaks have abounded about the OnePlus 6 for a while now, but some specifications have already been confirmed thanks to the company's forum. The smartphone will be powered by a Qualcomm Snapdragon 845 processor and will sport a notch, whether you like it or not. There will also be up to 8 GB RAM and up to 256 GB storage available. Dual cameras are expected on the rear, and the flagship may feature an edge-to-edge screen.
The price for the OnePlus 6 has yet to be confirmed, although there has been speculation that more than one model of the flagship could eventually be unveiled, with a premium version of the phone costing US$749.