Deal | Latest HP Spectre x360 13 Ice Lake convertible with Core i7 CPU and 512 GB SSD is only $800 right now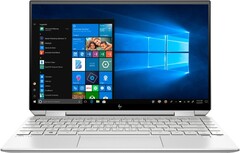 Outlets seem to want these brand new 10 nm Core i7 laptops gone from their shelves as fast as possible. The high-end Spectre x360 13 Ice Lake is merely a few months old and yet its price has fallen by nearly 40 percent.
The Intel Ice Lake series is barely half a year old and steep price cuts are already popping up. The latest laptop on the sale rack is the HP Spectre x360 13 equipped with the high-end Core i7-1065G7 CPU for only $800 compared to the original launch price of $1300 USD just a few months ago.
This particular deal is notable because the Spectre series is home to HP's premier consumer laptops in contrast to the mid-range Envy series and budget Pavilion series. Furthermore, this specific model is the latest design meaning that the sale is not for some years-old system that nobody wants. The roomy 512 GB NVMe SSD and free active pen and carrying case are icing on the cake.
There are, however, a few catches. Firstly, the 8 GB of RAM is on the low side for any modern laptop and the modules here are soldered and non-upgradeable. Secondly, raw processor performance on the Spectre x360 13 is slower than we had expected when compared to other laptops with the same Core i7-1065G7 CPU. Nonetheless, build quality is solid if you can overlook these drawbacks.
See our full review on the Ice Lake Spectre x360 13 here for our take on the convertible laptop. Other Ice Lake laptops have also gone down in price during the past few weeks.