Update | Official HP Spectre x360 13 specifications were off by 300 grams, now fixed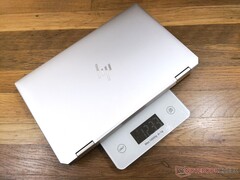 No, the latest Ice Lake-powered Spectre x360 13 does not weigh just 930 grams despite what the HP Customer Support Knowledge Base is affirming. Our own measurements show that the convertible is actually 33 percent heavier to be closer to the Dell XPS 13 7390 2-in-1.
(January 2, 2020 update: HP confirms the weight listing as an error with plans to correct the page in the near future. Product listings from HP and Best Buy are giving the correct weight of the system.)
(January 3, 2020 update: Error has now been fixed!)
When we review laptops or smartphones, we usually take certain manufacturer-provided measurements like weight and dimensions without batting an eye. After all, these are relatively straightforward data points without much room for error... or so we thought.
The latest 2019 HP Spectre x360 13 convertible laptop comes equipped with an Intel Ice Lake CPU and a 13.3-inch touchscreen wrapped in a portable chassis that the OEM is claiming to weigh just 0.93 kg. Now, being off by 100 g or so isn't uncommon because some laptops come with optional glass touchscreens or secondary HDDs which would add weight to the system. In this case, however, 0.93 kg is underestimating the weight of this particular model by over 300 g when we decided to weigh the system ourselves with a kitchen scale as shown below.
Our first thought was that maybe our test unit wasn't the exact same model that HP has listed, but everything from the model name (aw0013dx) and product number (7PS58UA) to the specifications are a one-to-one match. Keep in mind that very few Ultrabooks actually come in at under 1 kg with the LG Gram 14 being a notable example.
We've reached out to HP about the weight discrepancy and will update this page accordingly. Until then, note that the latest Spectre x360 13 is a lot heavier than what HP wants you to believe.