After having launched the 12th gen Alder Lake-S desktop processors last year, Intel, is now taking the wraps off the mobile variants — the 12th gen Alder Lake mobile series — at CES 2022. The Alder Lake mobile platform can scale from 9 W all the way to 125 W and is built on the Intel 7 process, which is the new name for 10 nm Enhanced SuperFin.
The new Alder Lake mobile processors feature a hybrid core design with Intel Thread Director like their desktop counterparts and offer support for DDR5 RAM and PCIe Gen5.
Today, Intel is announcing three processor families under the 12th gen Core Mobile umbrella. These include the H-series Enthusiast chips at 45 W, P-series Performance Thin and Light at 28 W, and a U-series Modern Thin and Light series that is comprised of both 9 W and 15 W SKUs.
Intel 12th gen Alder Lake-H
The 12th gen Alder Lake-H series includes a total of eight SKUs starting from the 8C/12T Core i5-12450H with four P-core and four E-cores to the 14C/20T Core i9-12900HK with six P-cores and eight E-cores. The H-series processors are rated at 45 W base TDP with the Core i7-12650H, Core i7-12700H, and Core i7-12800H, Core i9-12900H, and the Core i9-12900HK using up to 115 W max power. The Core i5 SKUs are limited to 95 W max TDP.
The H-series platform supports memory configurations up to DDR5-4800 though support for DDR4-3200, LPDDR5-5200, and LPDDR4x-4267 are also available. The Alder Lake H-series chips can support a total of 20 PCIe lanes from the CPU including eight PCIe Gen4 for the GPU and 12 PCIe Gen3 for peripherals.
Intel 12th gen Alder Lake-H - Higher perf per W than Apple M1 Max and Ryzen 9 5900HX
It's no suprise that Intel claims Alder Lake-H has the best performance per Watt compared to rivals such as the Apple M1 Max or the AMD Ryzen 9 5900HX. We will have to test those claims later ourselves once we get our hands on Alder Lake laptops, but for now let's look at what else is Intel claiming.
According to Intel, the Core i9-12900HK is also up to 28% faster in gaming than the Core i9-11980HK when paired with the same RTX 3080 Laptop GPU at 1080p High. However, Intel notes that the RTX 3080 in the Core i9-12900HK-powered MSI GE76 Raider is rated at 165 W while the one in the Core i9-11980HK-powered MSI GE76 Raider is rated at 155 W. The 165 W version of the RTX 3080 is also being used in the Ryzen 9 5900HX-powered Lenovo Legion 7 against which Intel claims up to a 28% advantage in gaming.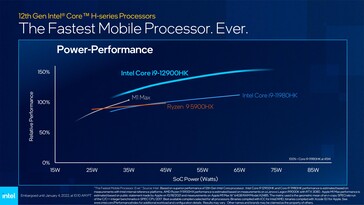 Intel also claimed significantly better performance in content creation apps such as Adobe Premiere, Lightroom Classic, Blender, and Autodesk.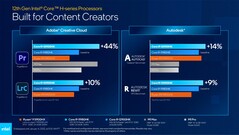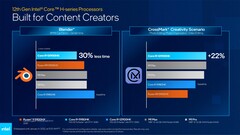 Intel Alder Lake-P and Alder Lake-U Series
Apart from the H-series Enthusiast class processors, Intel also revealed the P-series and U-series SKUs even though the company didn't delve into their performance metrics in detail.
The Alder Lake P-series starts from the Core i3-1220P 10C/12T processor featuring two P-cores and eight E-cores and goes all the way up to the Core i7-1280P, which is a 14C/20T part with six P-cores and eight E-cores. The Alder Lake-P series operates at a 28 W base TDP with a max TDP up to 64 W.
The Alder Lake-U lineup is bifurcated into two segments — 9 W and 15 W. The 9 W Alder Lake-P starts from the 5C/6T Celeron 7300 and Pentium 8500 offerings and goes up to the Core i7-1260U with 10C/12T while the 15 W offerings start from the 5C/6T Celeron 7305 and Pentium 8505 to the 10C/12T Core i7-1265U. The 9 W processors have a max TDP of 29 W while the 15 W SKUs can go up to 55 W.
Though a cell and molecular biologist by training, I have been drawn towards computers from a very young age ever since I got my first PC in 1998. My passion for technology grew quite exponentially with the times, and it has been an incredible experience from being a much solicited source for tech advice and troubleshooting among family and friends to joining Notebookcheck in 2017 as a professional tech journalist. Now, I am a Lead Editor at Notebookcheck covering news and reviews encompassing a wide gamut of the technology landscape for Indian and global audiences. When I am not hunting for the next big story or taking complex measurements for reviews, you can find me unwinding to a nice read, listening to some soulful music, or trying out a new game.