During the 12th gen Alder Lake-H launch at CES 2022, Intel briefly touched upon Alder Lake-P (ADL-P) and Alder Lake-U (ADL-U) offerings without going into much detail about their performance or platform features. We have also seen OEMs announcing Alder Lake-P devices such as the Dell XPS 13 Plus 9320 and Lenovo Yoga 7i.
Today, Intel is throwing more light on Alder Lake-P and Alder Lake-U processors that are expected to power more than 250 designs in the 9 W to 28 W range.
Alder Lake-P and Alder Lake-U: Platform features
Alder Lake-P will offer up to 14 cores that include six P-cores and eight E-cores. Alder Lake-U, on the other hand, tops-out at 10 cores with two P-cores and up to eight E-cores Like their H-series counterparts, Alder Lake-P and Alder Lake-U also feature Intel Thread Director and support various memory standards including DDR5-4800, DDR4-3200, LPDDR5-5200, and LPDDR4x-4267.
Alder Lake-P parts are rated at a 28 W base TDP with a max TDP of 64 W and have a package size of 50x25x1.3 mm. Alder Lake-U is offered in two TDP variants — 9 W and 15 W. ADL-U 15 W has the same BGA package size as that of ADL-P. ADL-U 9W, however, comes in a 28.5x19x1.1 mm package.
Intel also detailed some platform enhancements, particularly the new image processing that supposedly offers a 10x improvement over 10th gen processors.
The 28 W ADL-P and 15 W ADL-U CPUs offer a total of eight PCIe Gen4, 12 PCIe Gen3 lanes, and can support four Thunderbolt 4 connections. The 9 W ADL-U CPUs have to make do with just four PCIe Gen4, 10 PCIe Gen3, and two Thunderbolt 4 connectors owing to the reduced power limits.
Performance: 35 W Core i7-1280P 70% faster in multi-core than Core i7-1195G7
Intel claims "enthusiast-level performance" with ADL-P. Taking the Tiger Lake Core i7-1195G7 at 28 W to offer 100% relative performance, Intel showed that the Core i7-1265U is able to offer around 20% better multi-core performance at 28 W while matching the AMD Ryzen 7 5800U (~16 W) and comfortably leading the Apple M1 (12 W).
The Core i7-1265U's stated performance does raise a few questions, however. Intel said in the footnotes that the Core i7-1265U was run at a fixed PL1 at 12 W, 15 W, 20 W, and 28 W with Dynamic Tuning enabled at 25 W. From the graph, it is clear that the Ryzen 7 5800U is able to offer higher performance at ~16 W compared to the Core i7-1265U.
There's another thing to consider as well. The Core i7-1265U offers 2 P-cores and 8 E-cores while the Ryzen 7 5800U offers 8C/16T. The Ryzen 7 6800U will also offer an 8C/16T configuration with further enhancements to power efficiency. So, while it is good to see the Core i7-1265U match Ryzen's multi-core performance with just two hyperthreading-enabled cores and 12 threads, it seems to require more SoC power to achieve the same.
We do not know the relative performance figures of 9 W ADL-U parts such as the Core i7-1260U, but AMD could have a potential advantage in ultra-thin form factors. Besides, the 6 nm Ryzen 6000 series will also include an RDNA 2 iGPU that should offer much better performance overall compared to the 11th gen Xe graphics that Intel continues to use in the 12th gen.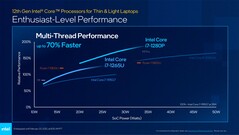 Things start to get interesting with the Core i7-1280P. Intel shows the ADL-P top dog to offer up to 20% higher multi-core performance than the Apple M1 Pro 8-core at 35 W and about 40% better relative performance than the Ryzen 7 5800U. Once again, Intel limits the PL1 of the Core i7-1280P to 20 W, 28 W, and 35 W. With six P-cores and eight E-cores, the Core i7-1280P looks to be quite promising.
In Blender CPU, Intel said that the Core i7-1280P can finish the task in 50% lesser time compared to the Core i7-1195G7. However, both the M1 Pro and the Ryzen 7 5800U don't seem to be that far off. Intel also spoke about how Thread Director can intelligently assign tasks to the corresponding cores as per need. For instance, the P-cores can take over foreground tasks while the E-cores tend to background processes.
Availability: 250+ designs expected in 2022
Intel said that it expects more than 250 designs in 2022 featuring Alder Lake-P and Alder Lake-U processors. New foldable designs are also on the anvil with 9 W ADL-U chips, and Intel is even extending the new Evo 3 specification to accommodate foldables.

Around 8 odd designs will also offer exclusive Evo 3 features such as the Intel Visual Sensing Controller that will be embedded in the lid electronics to provide ultra-low power user presence sensing. 5G is now part of the Evo spec as well with 15+ designs expected to feature 5G connectivity.
Intel is bringing a new Multi Device Experience feature to select Evo 3 laptops this holiday. Multi Device Experience allows seamless roaming between laptop, phone, tablet, and even smartwatches.
Though a cell and molecular biologist by training, I have been drawn towards computers from a very young age ever since I got my first PC in 1998. My passion for technology grew quite exponentially with the times, and it has been an incredible experience from being a much solicited source for tech advice and troubleshooting among family and friends to joining Notebookcheck in 2017 as a professional tech journalist. Now, I am a Lead Editor at Notebookcheck covering news and reviews encompassing a wide gamut of the technology landscape for Indian and global audiences. When I am not hunting for the next big story or taking complex measurements for reviews, you can find me unwinding to a nice read, listening to some soulful music, or trying out a new game.