With the launch date for Intel 12th gen Alder Lake fast approaching, more benchmarks have now started to make their way online. The latest such leak is that of the flagship Core i9-12900K processor. CPU-Z results of an overclocked Core i9-12900K were posted on Chinese social media and compared with a stock AMD Ryzen 9 5950X.
The Core i9-12900K sports a 16-core 24-thread configuration with eight P-cores (Golden Cove) and eight E-cores (Gracemont) with 30 MB L3 cache. The retail version of the processor is slated to boost up to 5.3 GHz with an all-core boost up to 5 GHz on the P-cores while the E-cores would have a maximum boost up to 3.9 GHz and all-core boost up to 3.7 GHz.
It seems that Alder Lake will allow the P-cores and E-cores to be overclocked independently of each other. The Core i9-12900K in this case was pushed to a 5.2 GHz all-core overclock at 1.385 V on the P-cores alone with the E-cores left intact at 3.7 GHz. According to the leaker, this resulted in a power consumption of 330 W.
With a 5.2 GHz all-core overclock, the Core i9-12900K was found to be 31.3% faster in single-thread with a marginal 0.67% lead in multi-thread over a stock Ryzen 9 5950X in CPU-Z.
For those not in the know, the Core i9-12900K will have a PL1 of 125 W and a PL2 of 228 W so the 330 W power consumption is more than 2.5 times that of the stock PL1. That being said, there is no actual power reading that was included in the leak, so we will have to take this information with some skepticism for now.
Alder Lake brings support for DDR5 memory, but the exact memory configuration used in this leak is not clear. That being said, CPU-Z is able to identify the proper name string and number of threads of this processor, so this sample is a retail unit in all likelihood. The OS used is Windows 11 going by the rounded window corners seen in the CPU-Z screenshot.
Another posting on Bilibili by user YuuKi_AnS compared results from an engineering sample (ES) of the Core i9-12900K with Rocket Lake Core i9-11900K and the Ryzen 9 5950X. The results from Cinebench R23 indicate that the Core i9-12900K ES is about 25.6% faster in R23 single and about 5.3% slower in R23 multi compared to the Ryzen 9 5950X.
Similarly, in CPU-Z, the Core i9-12900K ES is about 20.7 faster in single but nearly 11.6% slower in multi-thread compared to the Ryzen 9 5950X.
The retail sample is likely to reduce the multi-thread deficit a bit, but further narrowing the gap and ensuring a lead seems to require overclocking the P-cores albeit at a significant power expense.
It is still quite early to make a definitive inference, however. Recently, we have seen Geekbench results that show the Core i9-12900K to have a perceivable advantage over the Ryzen 9 5950X in multi-core as well. A 3DMark Time Spy CPU leak also put the Core i9-12900K in a comfortable lead over the Ryzen 9 5900X and the Ryzen 9 5950X likely due to the single-core benefits.
It could be that current benchmarks may need further optimization to properly recognize and schedule the threads for the hybrid architecture. In any case, we will be knowing more concrete information and test results in the coming weeks.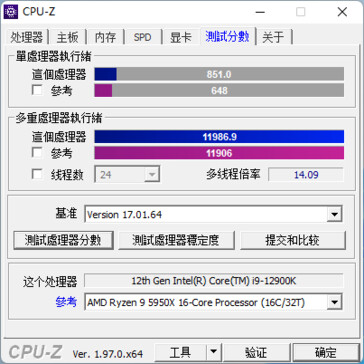 Source(s)
Bilibili (1) and (2) via @9550pro on Twitter (1) and (2)