Huawei launches Matebook D 14 laptop with gen 8 Intel CPU and Nvidia GPU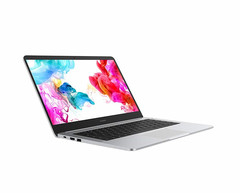 Following the successful release of the Matebook D powered by the AMD Ryzen 2500U CPU, Huawei now releases two version with Intel's Kaby Lake-R CPUs and Nvidia's MX150 GPUs. The chassis and display are unchanged, but users can choose among the Intel Core i5-8250U and the i7-8550U CPUs coupled with 8 GB of DDR4 RAM and 256 GB / 512 GB, respectively.
The MateBook D 14 launched earlier this year with AMD's Ryzen 5 2500U CPU integrating the Radeon RX Vega 8 GPU was quite a successful move from Huawei, as it came with a decent MSRP of around US$650. It seems like customers asked for Intel CPUs and more powerful discrete GPUs, as well, so Huawei is now presenting a new version powered by the Kaby Lake-R chips with Nvidia's MX150 2 GB.

Huawei did not change anything as far as the chassis and the display are concerned. The new model still features the slim aluminum casing measuring 12.7″ x 8.7″ x 0.6″ and weighing 3.5 pounds, plus the 14-inch LCD touchscreen with slim side bezels.

Users can choose between the i5-8250U CPU that comes with a 256 GB SSD and the i7-8550U model that comes with 512 GB of SSD storage. Both variants integrate 8 GB of DDR4 RAM, and otherwise come with standard features such as:
• WiFi + Bluetooth 4.1
• 1x USB-C, USB-A 3.0 and 2.0 ports. HDMI out, audio out
• 1 MP webcam + dual array microphones
• Dolby Atmos quad speakers

Unfortunately, the Intel version of the Matebook D does not feature the fingerprint sensor near the keyboard.

Amazon has the cheapest offer for the I5-8250U model, which is going for US$964. The i7-8550U model, on the other hand, can be ordered from the Microsoft store for only US1,099. Also, make sure to check our review of the 15.6-inch i5-8250U model.