HP ZBook Studio G9: 4 top-notch features that make it an attractive purchase prospect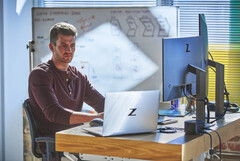 The choices and comments made on this list belong solely to the author.
1. Screaming-fast graphics
Creative pros and avid gamers will be glad to hear that the new ZBook Studio G9 can be configured with up to a GeForce RTX 3080 Ti.
A separate model configurable up to an RTX A5000 for heavier AI-driven workflows and simulation tasks will also be available.
2. Relatively lightweight
Though the exact weight of the ZBook Studio G9 "varies by configuration and components", the standard model will start at 3.81 pounds (1.73 kg) according to HP.
At under four pounds, the G9 remarkably packs all that performance into a chassis that is significantly lighter than users would expect when compared to laptops that are of a similar caliber.
3. Improved aspect ratio
On the ZBook Studio G9 the already comfy 16:9 aspect ratio from the previous generation has been adjusted to meet the more agreeable 16:10 standard.
The same widely-commended OLED panel from the previous model is also retained on the new version.
4. High refresh rate comes standard
While last year's ZBook Studio forced users to trade the stunning OLED panel for 120 Hz functionality, the ZBook Studio G9 features 120 Hz standard on all models this year.
Self-proclaimed coffee connoisseur and tech enthusiast Brahm Shank is captivated by the impact of consumer tech: "It's profoundly moving when people discover that the phone in their pocket or the tiny computer on their wrist has the power to enrich their lives in ways they never imagined." Apple, Inc. and its unique position at the intersection of technology and the creative arts, resonates deeply with Brahm and his passion for helping people unleash their potential using technology. Over the years, Brahm has held various podcasts - including famed technologist David Pogue of The New York Times on topics such as Big Tech and digital wellness.