Geekbench tests pulverized by 16-core AMD Ryzen processor clocked at 5.2 GHz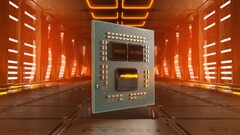 It seems yet again a 16-core Matisse processor from AMD has been creating surprise results on Geekbench. This time, a test system featuring a processor labeled as "AMD 100-000000033-01" managed to throw up huge scores in both the single-core test and the multi-core benchmark. A maximum frequency of 5.2 GHz was also measured.
Expert data discoverer Tum Apisak has shared another startling result involving one of AMD's CPUs. The chip recorded in the Geekbench listing titled "Micro-Star International Co., Ltd. MS-7C34" isn't specifically named, leading to speculation that it is either an engineering sample of the upcoming Ryzen 9 3950X desktop processor (likely) or a new mysterious 16-core CPU (less likely).
The overclocked sample found on Geekbench is measured at 3.30 GHz base frequency and a whopping 5.2 GHz boost frequency. The announced specifications in terms of clock rates for the AMD 9 3950X are 3.5 GHz and 4.7 GHz, respectively, which explains the aforementioned speculation due to the clock-rate differences. Regardless of what the CPU actually is, the new leaked results are quite astonishing.
In the single-core test, the Matisse Ryzen processor racks up 6,714 points. Admittedly, this is a long way short of the 10,000+ points managed by the systems that top Geekbench's individual results chart, but it offers a different picture when glancing through the average benchmark table. The engineering sample/overclocked processor's single-core score would place it at the top, with Intel's Core i9-9900K and i7-8086K lagging behind.
Looking at the multi-core score for the 5.2 GHz-clocked Ryzen chip shows that its 64,953 points would also place it at the head of the pack in the relevant average benchmark chart, and it is even higher than the incredible benchmark performed by another 16-core AMD Matisse Ryzen processor not long ago (later confirmed as a Ryzen 3950X ES). In the average benchmark charts, these results can't be touched by anything Intel currently has to offer. Of course, the Geekbench results may have been tampered with, but there seems little doubt that AMD's Ryzen 3000 series is going to make serious waves in the CPU market.