There's no such thing as a perfect laptop especially when it comes to port options. Some users may prefer to have DisplayPort instead of HDMI or more USB-A ports than USB-C ports. Some may desire MicroSD readers while others might have no use for them. Regardless of preference, all major laptops ship with fixed ports that the manufacturers themselves decided to include or exclude.
The Framework Laptop tackles this issue head on by allowing users to "swap" out certain ports for others. It integrates four Thunderbolt-compatible USB-C ports that are recessed onto the chassis for users to connect special adapters or expansion cards to turn them into MicroSD, HDMI, DisplayPort, or USB-A ports. Thus, users can have four HDMI, four DisplayPort, four USB-A, or even four MicroSD slots if they so choose. The idea is that users can swap out certain ports to better fit their daily workloads instead of being limited to the usual fixed ports.
The concept is made even more simple by the fact that the Framework laptop isn't using any proprietary connections. The expansion cards themselves are proprietary in size and physical design as shown by the picture below, but they use the same USB-C connectors as any aftermarket adapter.
The main issues are that the expansion cards must be purchased directly from the manufacturer and that they may not be available with specific ports. For example, Framework does not carry expansion cards with full-size SD card readers or optical out.
We're surprised to see that other manufacturers haven't adopted similar approaches to their existing models. Not every port needs to be swappable, of course, but having just one or two a la the Framework laptop could make models like the Lenovo ThinkPad T14 or HP EliteBook 855 more customizable and attractive. A mix of both fixed and swappable ports could go a long way.
Expect our full review on the Framework Laptop in the coming days.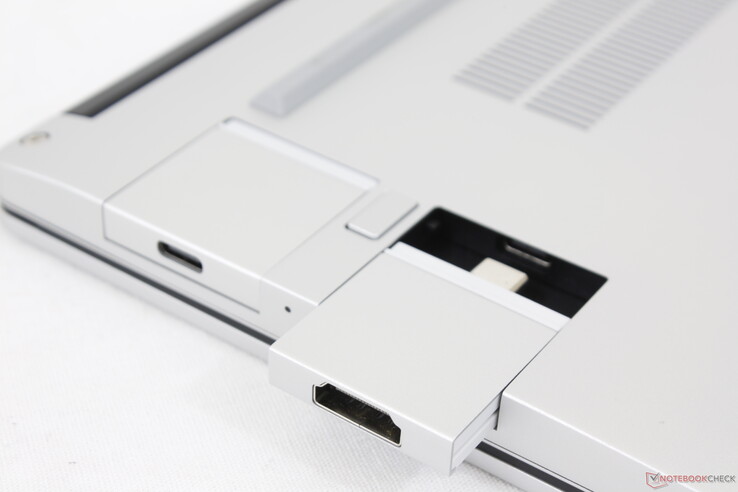 After graduating with a B.S. in environmental hydrodynamics from the University of California, I studied reactor physics to become licensed by the U.S. NRC to operate nuclear reactors. There's a striking level of appreciation you gain for everyday consumer electronics after working with modern nuclear reactivity systems astonishingly powered by computers from the 80s. When I'm not managing day-to-day activities and US review articles on Notebookcheck, you can catch me following the eSports scene and the latest gaming news.