Flujo claims to combine a multi-port notebook dock with an M.2 SSD enclosure in the Signature Pro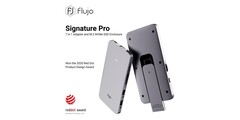 The advent of USB type C-only ultrabooks have led to a slew of portable solutions that purport to offer all other I/O required, many of which debut via crowdfunding campaigns. The Signature Pro from Flujo Technologies is no different in this regard - except that it also incorporates a slot for an NVMe SSD.
Flujo Technologies is a spin-off from the National University of Singapore that has designed a new kind of hub-type companion for ultrabooks that may have been shorn of nearly everything save USB type C interfaces over the years. This product category has become overrun with new devices intended to deliver everything the user needs while taking up only 1 valuable port. However, the Signature Pro tries to push this even further by pulling off a new level of kitchen-sinkitude: the option to add an SSD for storage.
This slot, found on the back of each Signature Pro device, is compatible with NVMe drives of the 2230, 2242, 2260 or 2280 M.2 varieties. Once installed, it may then complement data speeds of up to 10 gigabits per second (Gbps) thanks to the hub's USB 3.1 Gen 2 type-A ports. (Flujo does not specify the capacities supported by this enclosure, however).
The Signature Pro also features a HDMI 2.0 port, so as to connect a notebook to displays that support up to 4K/60Hz resolutions; a 480Mbps USB 2.0 port, a USB type C port for Power Delivery- (USB-PD) standard charging at up to 100 watts (W). The new hub also offers both SD and microSD card slots, which can apparently be used at the same time.
These ports are all found in a slim, aluminium "passport-sized" chassis with "Surface Globoidal Design" rated for ease of fitting into a pocket or bag. These attributes may be what has won the Signature Pro a 2020 Red Dot Design Award.
It starts at ~US$110 as a reward as part of its freshly-launched Indiegogo campaign, which has attracted about $6300 (or about 89% of its flexible goal) with 30 days to go (correct at time of writing).