Eve V to begin shipping next month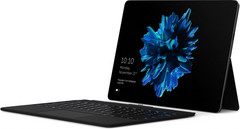 This crowdfunded "Surface killer" was supposed to launch in February, but the whole program has been delayed due to undisclosed reasons. Now, this 12.3-inch Windows tablet with a built-in kickstand is already being tested and shipments should finally begin by the end of May.
Eve Tech launched the crowdfunding campaign for the Eve V "Surface killer" back in late 2016, promising that shipments would begin in February. Although the crowdfunding campaign was successful, the promise was not fulfilled. Fortunately, this was only a delay, and the first production units are expected to reach their backers starting next month.
Right now, members of the community are already testing a small number of prototypes. This 12.3-inch tablet has a touchscreen display with 2,736X1,824 pixels, being available with the following three processor options: Intel Core m3-7Y30, Intel Core i5-7Y54, or Intel Core i7-7Y75. The Eve V features a wireless keyboard cover with backlit keys, two USB 3.1 ports, as well as a Thunderbolt 3 port.
The convertible once known as "Project Flipper" started at $699 USD and 500 units were sold in the first stage. Eve plans to manufacture at least 2,000, but that remains to be seen. We will probably hear more about the future of this convertible once the first batch starts shipping next month.