Upcoming Doogee Mix smartphone will compete against the Xiaomi Mi Mix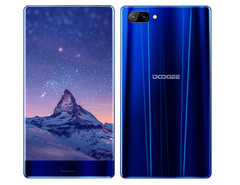 Razor-thin bezels will become commonplace now that the Galaxy S8 and LG G6 have set the bar for smaller manufacturers to follow. The 5.5-inch Doogee Mix will have a near edge-less design on three sides not unlike the 6.4-inch Xiaomi Mi Mix.
A growing smartphone trend this year seems to be who can deliver the highest screen-to-body ratio the fastest. The LG G6, Samsung Galaxy S8, and Xiaomi Mi Mix, for example, are all flagship devices with very narrow bezels to allow for larger display sizes without necessarily increasing overall dimensions. More recently, Chinese manufacturer Maze Mobile unveiled a three-sided borderless smartphone called the Alpha and rumors suggest that the iPhone 8 may follow a similar path.
Now, yet another Chinese manufacturer is gearing up for its first "border-free" smartphone. The Doogee Mix takes inspiration from the Xiaomi Mi Mix in both name and design with narrow bezels on three of its four sides. Unlike its Xiaomi counterpart, however, the Doogee Mix will be a smaller 5.5-inch AMOLED offering with likely a MediaTek Helio P25 SoC, up to 6 GB of RAM, and dual rear cameras. The manufacturer is expected to reveal more details on the Mix at the Asia World Expo event later this week. Until then, the comparison images below show how much smaller the Doogee smartphone will be compared to the Xiaomi Mi Mix.