Dual-format laptop: The PivoBook's display can be rotated through 90 degrees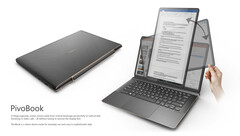 Compal has won an IF Design Award 2020 for its latest notebook, and for good reason. The PivoBook has a 14-inch OLED display that can be tilted into portrait mode without being removed from the rest of its form-factor, making it ideal for coders, writers or designers that also like content-consumption.
Compal has launched the PivoBook, a new and innovative laptop with an adjustable orientation. This take on the concept has a specially-designed hinge that allows its 14-inch display to switch between landscape and portrait without being removed from the rest of the system. This property keeps the device in the notebook category rather than that of the convertible or 2-in-1.
The OEM has also stated that the PivoBook will have an OLED multi-touch panel with an FHD resolution. It is also slated to be exceptionally light and thin so that it can be tilted easily with 1 hand. It also weighs only 3.5lbs, meaning its new form-factor is portable as well as adjustable.
These are probably just some of the reasons the Compal PivoBook has won 1 of IF's 2020 Design Awards. It is directed at consumer- and industry-grade customers, and may be destined for in the North American and Asian markets soon. This innovative notebook does not have concrete pricing or availability information.