Opinion | Does a gaming laptop need good battery life? Dell doesn't think so, judging by the Alienware m15 R4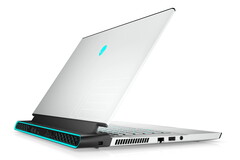 Views, thoughts, and opinions expressed in the text belong solely to the author.
Working For Notebookcheck
Are you a techie who knows how to write? Then join our Team! English native speakers welcome!
News Writer (AUS/NZL based) - Details here
The Alienware m15 R4 is available in several configurations. We just reviewed the model with the RTX 3080 and a mechanical keyboard; the version with the RTX 3070 was reviewed before. The Alien with the stylish design does a lot of things right, but it's far from lacking points of criticism.
Although it has to deal with problems like high temperatures and loud fans, we will focus on the abysmal battery life here. This is also due to the absence of Optimus in the m15 R4 with the 300 Hz display. Apparently, Dell thinks that a powerful gaming laptop will be used almost exclusively connected to a power outlet, but why would I need a laptop then? A cheaper and usually quieter desktop PC would also do the trick then, right?
Sure, it's still much easier to slip a laptop into a backpack, take it with you, and plug it into a power outlet somewhere else (e.g. at a friend's house) than it would be with a desktop. But are battery runtimes really insignificant for a gaming laptop?
I think not! Although, or precisely because, I was or partly still am a passionate recreational gamer, my own gaming laptop replaced my desktop PC at some point. Precisely because it was portable, I could bring it over to a friend's house more easily. But also because I could sit in the park and play a round of FIFA or watch a movie on a long train ride. My gaming desktop replacement had to be an all-rounder, a device able to do everything. Its laptop perks didn't just boil down to the ability of being dragged from socket A to socket B.
If the battery gave out after just 45 minutes of gaming, I wouldn't have to lug around such a laptop, which is usually also heavy; that would be an argument against a purchase for me then and now. My laptop shouldn't become a useless dead weight after 45 minutes of gaming; I want to be able to enjoy it for a longer period of time, even on the road or in the park. So, Dell, please optimize the battery life of your Alienwares and finally get the temperature problem under control. By the way, I own an Alienware 13 R3 (but with a GTX 1060), and I'm by no means averse to the brand.
Top 10 Laptops
Multimedia, Budget Multimedia, Gaming, Budget Gaming, Lightweight Gaming, Business, Budget Office, Workstation, Subnotebooks, Ultrabooks, Chromebooks
under 300 USD/Euros, under 500 USD/Euros, 1,000 USD/Euros, for University Students, Best Displays
Top 10 Smartphones
Smartphones, Phablets, ≤6-inch, Camera Smartphones
Views, thoughts, and opinions expressed in the text belong solely to the author.
Views, thoughts, and opinions expressed in the text belong solely to the author.