Cards to grid: iOS 14 will bring grid-style multitask view to iPhone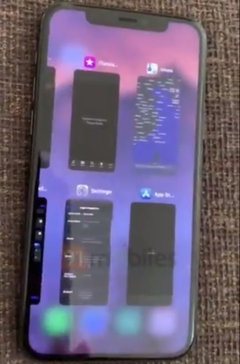 A new video of an iPhone claimed to run iOS 14 shows off a new grid-style multitasking view similar to the one running on iPadOS. Ben Geskin, the tipster behind this video, claims that this multitasking view is one of four options that will be available on iOS 14.
The new version of iOS, iOS 14, will likely bring some major changes to the iPhone when it's launched later this year. In addition to the rumors of iOS 14 allowing users to change default apps, a new video shows off an overhaul to iOS's multitasking system.
The video, which was posted by Ben Geskin and published by 91mobiles, shows an iPhone 11 Pro Max with a multitasking system that mirrors that of iPadOS. In the new multitasking view, apps appear in a grid rather than the familiar card system. Apps can be easily closed with a flick, which seems to occur a bit quicker than in the current multitasking system.
Geskin also posted a picture showing that the grid-style multitasking system is only one option of 4 that may be present in iOS 14. In addition to the grid layout, this build of iOS 14 allows users to select "Automatic" app switching (though there is no detail as to what that means), a "Deck switcher" (likely the card system currently used in iOS), and a "Minimum Viable Switcher" (again, with no detail as to what this is).
Now, all of this should be taken with a grain of salt. We have yet to see any substantial information concerning iOS 14. It's possible that this is simply a Jailbreak tweak, though Geskin denies this. We can expect to see iOS 14 in its first official capacity at WWDC in June, which is typically when Apple unveils its latest operating systems.