Rumour | iPhone SE 2: Apple's upcoming US$399 smartphone spotted in hands-on video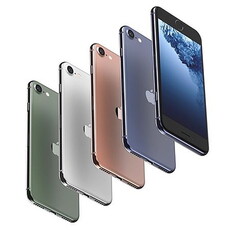 While some OEMs continue to push the boundaries of design, Apple seems content with recycling those that it first released over five years ago. A lot has been spoken about of the iPhone SE 2, potentially called the iPhone 9, and a video purporting to be a hands-on of the device has appeared online. Convinced? Neither are we.
The iPhone SE 2 is said to launch soon, will Apple possibly announcing the iPhone SE successor next month. Reportedly, the device will feature the design of an iPhone 8, as seen in renders published by OnLeaks a few months ago. The device is expected to have anywhere from a 4.7-inch to a 5.4-inch display, although recent rumours have coalesced around the former rather than the latter.
Now, Sparrow News has uploaded a video to YouTube that it purports is a hands-on of the SE 2. Please keep in mind that the device is referred to as the iPhone 9 at this stage, too. Brought to our attention by GSMArena and seemingly originally posted to TikTok, the video shows what looks like an iPhone 8, although with a few key differences.
Firstly, the device is mint-green. Apple never released a mint-green version of the iPhone 8. Secondly, the device has pronounced edges. By contrast, the iPhone 8 has rounded edges. Hence, the device in the video is not an iPhone 8.
A Google reverse image search of the back of the device does not reveal any details, either. The lack of reference elsewhere does not eliminate this video from being fake, though. One giveaway may be the frame, which does not match the rounded frame of the SE 2 seen in the renders published by OnLeaks. If this is a fake, then it is a well-executed one, at least.