Car thieves are using Apple AirTags to track and then steal expensive vehicles, iPhone users should be aware of a certain warning notification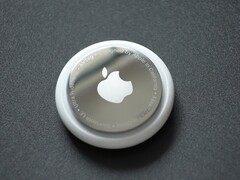 For regular iPhone users, Apple's tiny AirTags (from US$29 on Amazon) have proven to be very useful to easily locate and retrieve misplaced keychains or other similar everyday items which they can be attached to. Unfortunately, these tiny locatable gadgets are now also being utilized by car thieves in Canada, who are going after particularly expensive cars which they spot in public places. The York Regional Police, which is located near Toronto in the Canadian province of Ontario, has now issued a press release in which it unveils and warns about the procedure employed by these car thieves.
These criminals start by looking for expensive vehicles in public spaces like parking lots. Should they spot an expensive car that is worth stealing, they apparently place the locatable AirTag in hidden spots like the tow hitch connector. With said AirTag, the thieves are able to track the vehicle to its nightly parking location, and then proceed and steal the car using tools and technical equipment which allows them to start the vehicle without a key. Apple's anti stalking function is designed to prevent this from happening, because it notifies iPhone users should an unknown AirTag constantly remain in their immediate proximity.
However, not every car owner uses an iPhone, and even if they do, some victims supposedly did not receive the warning notification or simply ignored it because they were unaware of the associated danger. The York Regional Police has recorded at least five incidents of stolen cars in which the perpetrators apparently used Apple AirTags, but it is likely that the actual number of such crimes involving Apple's trackable gadgets is much higher, which is why iPhone users should be vigilant if the according notification pops up on their smartphone.
My fascination for technology goes back a long way to the Pentium II era. Modding, overclocking and treasuring computer hardware has since become an integral part of my life. As a student, I further developed a keen interest in mobile technologies that can make the stressful college life so much easier. After I fell in love with the creation of digital content while working in a marketing position, I now scour the web to bring you the most exciting topics in the world of tech. Outside the office, I'm particularly passionate about motorsports and mountain biking.