Cable-based connectivity set to be worth US$34 billion in 5 years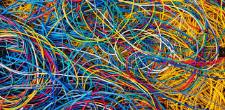 The wired interface market - which encompasses all types of USB cable, as well as others (e.g. Thunderbolt or HDMI) - is estimated to have a compound annual growth rate of 6.2% well into the next decade. However, it appears that their wireless counterparts have the potential to outstrip them in the same general time-frame.
For a long time, it seemed that wired connections were seen as the most popular and reliable options for data, networking and video connections. However, high-speed wireless interfaces may now be poised to overtake them permanently. An up-to-date report indicates that the market for wired interfaces, which refers to all types of cable-based connection (i.e. USB, HDMI, Display Port and Thunderbolt) will have a compound shipping growth rate of 6.2% for every year between now and 2023. At that point, the market will be worth US$34.7 billion.
This may seem like an impressive figure. However, the WiFi market, which could be seen as a competitor, may have a similar rate (known as a CAGR) of just over 21% by 2022 (although its total worth may be $15.1 billion at that point). Furthermore, the total Bluetooth market is projected to have a 10-year CAGR of 12.2% by 2022. The 5G market, which could also at least rival cables for transfer speed and integrity, obviously cannot record growth rates at this point. However, it is estimated to be worth as much as $250 billion by 2025.
What about Ethernet, though? It may still be a contender, especially in the wake of 10-gigabit technology. However, its market is estimated to be worth about $1.9 billion by 2025. On the other hand, its CAGR will be 14.1% at that point.
Therefore, it seems that the cable market is still holding its value in this day and age, more or less. However, wireless alternatives are catching up, and may be the wave of the future in some respects. Trends such as these may explain why device OEMs such as Apple and Google may be planning to jettison wired connectivity to the greatest extent possible.