Business in the front: Janus Android tablet has E Ink on one side, color LCD on the other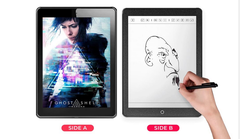 The Eewrite Janus is a dual-screen Android tablet. Taking after the Roman deity with which it shares a name, the Janus sports a high-resolution LCD panel on one side and a Carta E Ink display on the other. According to the pre-order page, the 1200x825 E Ink display also support Wacom styli, which may make the tablet a good tool for sketches and note taking.
UPDATE 13-5-2019: We earlier stated that the tablet was up for pre-order via OGadget's site. However, that page only contains a form used to join a mailing list with more information. The tablet can be pre-ordered via Kickstarter. We apologize for the mistake.
There have been a few companies that have tried their hand at making a device that blends a traditional LCD display with an E Ink screen. The most famous of these is probably Yotaphone, which sadly declared bankruptcy earlier this year. The folks over at Eewrite are giving it a shot now, and their Janus (formerly Epad X) tablet is going up for pre-order soon.
The Janus looks like a pretty decent mid-range tablet on paper:
Displays: 9.7-inch LCD color (2048x1536), 9.7-inch Carta E Ink (1200x825)
SoC: MediaTek MT8176 (2x ARM A72 @ 2.1 GHz + 4x ARM A53 @1.4 GHz [big.LITTLE], IMG PowerVR GX6250 GPU)
RAM: 2 GB
Storage: 32 GB w/ microSD up to 128 GB
Battery: 5000 mAh
Optional 4G LTE via SIM
The Janus is fairly compact at 9.8 mm thin, although it does have sizeable bezels (similar to those of the iPad Mini or iPad Air).
The primary gimmick of the Janus is its 9.7-inch E Ink display, which can be activated with a dedicated button on the side. Eewrite says that the E Ink screen also supports Wacom styli, although the company hasn't given any details beyond this statement. However, that should make the Janus a decent tablet for taking notes or sketching, provided the E Ink display can refresh quickly enough.
If you're interested, the Janus will go up for pre-order soon, although the exact date isn't yet known. Eewrite is selling the device through OGadget.com for $400 for pre-orders. After the pre-order period, the tablet will go on sale for $700.