Amazon Kindle Lite for basic handsets and slow internet connections debuts in India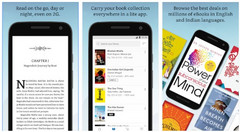 Although it was added to Google Play last year, Amazon Kindle Lite spend a few good months in the open beta stage. Now, this e-book reader app is finally out of testing, but only Google Play users in India can get it for the time being. Having less than 2 MB in size, this Android app is optimized for slow 2G/3G networks and low-end handsets, both very popular in India.
After being around for a few months as an open beta app, Amazon Kindle Lite is now finally available via Google Play as a stable piece of code. As its name suggests, this e-book reader is a lightweight alternative to the full Kindle app. Since it is exclusively available in India for now, this app is optimized for basic smartphones and slow 2G/3G networks, both very popular in the world's second-most populous country.
Amazon Kindle Lite doesn't even have 2 MB in size and uses less memory than the full Kindle app, but is capable of providing a seamless reading experience even when the internet connection is troublesome. Its highlights include monitoring of data usage over WiFi and mobile networks, instant access to e-books before the download is complete, as well as active management of downloaded e-books.
In this moment, the Amazon Kindle Lite app allows its users to read books in 5 Indian languages: Hindi, Tamil, Marathi, Malayalam, and Gujarati. It runs on virtually all smartphones with Android 4.4 KitKat (or later) onboard. The current version is labeled 1.1 and has been released yesterday. It has been downloaded by more than 50,000 users so far, but only 8 reviewed it, so the current rating of 4/5 stars cannot be considered relevant yet.
Since the Android Go initiative provided a few good ultra-light apps for Android that run on any handset worldwide, we can only hope for Amazon Kindle Lite to become available outside India as soon as possible. After all, many users — including flagship users — would gladly trade in some fancy features for an increase in speed and efficiency.